What is a 'Locost' and why build one?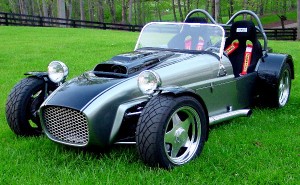 A very good question!  A locost is any home built lotus 7 replica.  From wikipedia, a Lotus 7 is a small, simple, lightweight two-seater open-top sports car produced by Lotus Cars (initially called Lotus Engineering) between 1957 and 1972.  Due to their simplicity, it is well within reach for most people with some garage space and a whole lot of time to build one.  Some choose to build completely from scratch, as I have, and some purchase "kits" that provide various levels of completion.  Scratch-built lotus 7′s also tend to be quite affordable (hence the nick name 'locost'), considering the level of performance you can achieve with one.  My budget goal is $6-$7k, and with that I'll have a car that ought to out perform most production sports cars, at least it will under 100 mph.  There is much more to this than simply wanting a fast car on the cheap, however.  I've had a few sports cars, but in particular I put a ton of time effort and money into one, my 944 Turbo, which I owned for 3 years.  I may well still own it today if it weren't for me deciding to build a locost.  The problem with it was that no matter how much money I put into it, it wasn't fast enough.  Even more annoying, was that I could spend multiple thousands of dollars on it and the project of installing whatever new performance part I had just bought would always be relatively short-lived.. One can install an upgraded turbo kit in a weekend!  Where's the fun in that?  I enjoy driving the car, but I also immensely enjoy working on it.  So, I just spent thousands of dollars on performance part x, it only took a handful of hours to install, and now the car is still not fast enough!?!  Seems like a waste of effort..
Enter the locost.  Here is the ultimate car project!  I get to spend tons of time solving problems, building, fabricating, customizing (in fact, everything is as custom as I want it to be!), and the end result is going to be insanely fast and fun to drive.  This is the best deal I could hope for as far as I'm concerned.
General specs/info
Now that you know a bit more about this project, here is a list of general specs and info about my car.. these are things that either are already finalized or are goals that I hope to achieve.
Drivetrain: Supercharged 1.6 liter miata motor
Suspension: double-wishbone on all 4 corners, designed and built by me, with promastar qa-1 coilovers
Brakes: 1.6 l miata brakes
Wheels: TRMotorsport C1 – 15×7.5 and 13.2 lbs
Seats: Kirkey racing drag bucket seats, 15″ and 16″ wide for driver and passenger, respectively
Target weight: 1300 lbs with all fluids, body panels, etc
Target power: 150 rwhp
That's it for now, I'll update this list as the car comes along.